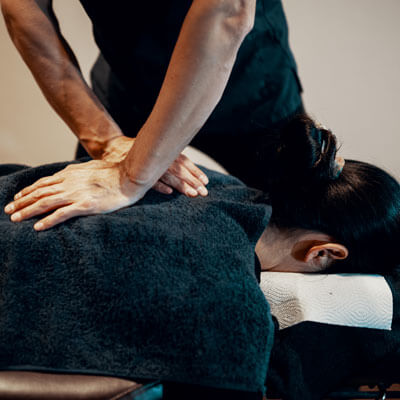 Chiropractic Care
Chiropractic is a manual therapy that focuses on the natural wellbeing and optimal health of our patients. Safe and effective for all, we see patients from 6- year-olds to seniors. Chiropractic holistically treats the whole body and we will work with you until we find the root cause of your pain.
When you visit The Arch Chiropractic Health & Performance Centre, you'll discover we're not just another chiropractic practice. We have a different perspective on treatment; we don't just address your symptoms. Utilizing manual adjustments, rehabilitation and exercise, as well as injury treatments, we can have a positive impact on your health.
NEW PATIENTS

Your body is a magnificent machine but, like any machine, it sometimes needs repair. Whether from injury, stress or everyday wear and tear, the body can get knocked off kilter. In some cases, the cause is not readily apparent.
That's where our in-depth assessment comes in. We spend however much time is necessary to listen to your story and find where the issue originates from. Testing is done to determine any deficiencies in the neural, muscular and skeletal systems.
Your neural system controls the body; keeping it safe and healthy is crucial. Your neural, muscular and skeletal systems are all interconnected. Structure affects function; if there is an imbalance in these systems, if can affect your entire body.
When this occurs, it can be difficult to see what needs correction. Our work with your neural and musculoskeletal systems ensures the body, and its associated structures, are functioning at an optimal level.
By locating the real cause of your condition, we are able to utilize various therapies to correct the problem and allow the body to heal itself.
Some conditions our patients have seen improved with focused care are:

Neck pain
Back pain
Shoulder pain
Knee/hip pain
Limited range of motion
Sprain/strain
Headaches/migraines

Every patient is unique, so your care plan will be customized to address your issues. We work with athletes, motor vehicle cases, WSIB and you! If you're at the end of your rope, don't give up! We've helped others just like you; we will find a solution.

It doesn't matter if you're young or old; big or little; we can help you to reduce your pain, restore your health and live a happier life.
We use several chiropractic techniques at The Arch Chiropractic Health & Performance Centre, depending on the patient's needs. Manual manipulation techniques are the most common methods of adjustment. We use the Diversified and Thompson Drop techniques in our practice. One or more techniques may be necessary to provide the best results for you.
We may also use the Activator tool, a milder form of manual manipulation, when applicable. For our patients who are unable to tolerate any manipulation, we use a mobilization technique to move the affected joint through its range of motion without using thrusts.
Other modalities, such as the Class 4 Laser, may be applied as determined by the patient's care plan. Whatever technique is used, we treat the source of your problem and give you the relief you have been seeking.
Schedule Your Appointment Today
Ready to take the next step? Contact us today to make an appointment and get started.

Chiropractic Care | (905) 598-1223