Class IV K-Laser Therapy at The Arch Chiropractic Health & Performance Centre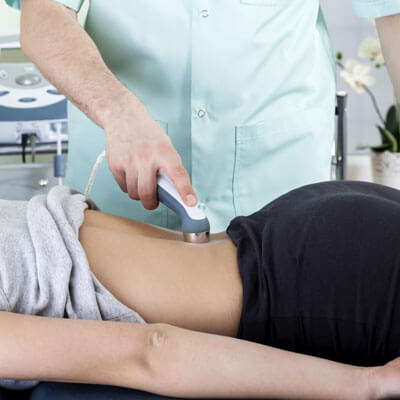 Chiropractic utilizes several modalities to reduce pain and inflammation. Laser therapy is often used, along with other therapies, as part of your care plan. Class IV K-Laser is the most advanced therapeutic laser and delivers the best treatment outcomes.
Also known as photobiomodulation (light, life, change) therapy, it's the use of specific wavelengths of light (red and near-infared) to create therapeutic effects. Laser therapy has been in use since the 1970s and is safe and effective to use.
NEW PATIENTS

Laser therapy stimulates the body's natural ability to heal at a cellular level. Therapy provides energy to your cells, triggering a series of chemical reactions which cause your body to begin its natural healing process.
The Photon (light) energy penetrates your skin and any underlying structures to accelerate recovery. The photochemical reaction triggers cell-level metabolism increasing the production of ATP (adenosine triphosphate).
ATP is the energy-carrying molecule found in the cells of all living things. When energy is needed for a task, ATP moves it where needed and releases it. Laser therapy helps increase ATP production to provide injured cells with the energy they need to heal.
Class IV laser therapy penetrates deeply into the affected area allowing energy to pass quickly to the nerve, muscle, ligament or tendon tissue that needs it. In our office, we can complete treatment of multiple areas in a single session improving overall results.
As a result of the increase in ATP, patients can experience reduced pain, swelling and increased range of motion. Laser therapy has also been shown to increase tissue regeneration and soft tissue and bone repair. Even after you leave the office, the effects of your laser therapy session continue on a cellular level to improve your musculoskeletal health.
Conditions that can benefit from Class IV K-Laser Therapy include:

Sprains/strains
Soft tissue injuries
Contusions
Inflammatory conditions
Rheumatoid/Osteoarthritis
Tendinopathies
Carpal tunnel
Plantar Fasciitis
Shoulder, back and knee pain
Most sports injuries

Used in conjunction with chiropractic care, Class IV K-Laser therapy can provide the type of results you need and want.
Laser therapy is totally painless. You may feel a little warming at the treatment site which can actually be soothing. After your treatment, minor joint aches, inflammation, pain and stiffness may be reduced due to increased blood circulation in the area.
Depending on the nature of your condition, improvement may be seen in as few as 3-4 sessions. The more chronic your condition, the more sessions you will require to obtain optimal healing. With so many benefits, and few, if any, minor side effects, Class IV K-Laser therapy is the right choice for your recovery.
Learn More Today
Laser therapy has been in use in Europe almost 50 years. During that time, many advances have been made and it is now utilized worldwide. A safe, effective, natural way to heal a diverse group of injuries with proven results. What's stopping you from getting the relief you need now?
Contact us for an appointment; you'll feel the difference Class IV K-Laser therapy can make for you. (905) 598-1223, don't delay, we can help.

Laser Therapy in Bolton, Caledon ON | (905) 598-1223