Medical Acupuncture at The Arch Chiropractic Health & Performance Centre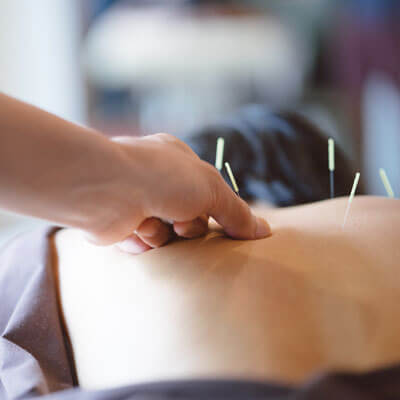 Acupuncture has been used as a holistic healing technique for centuries. Treatment has shown real benefits for patients with chronic pain conditions such as fibromyalgia and chronic fatigue syndrome.
Like many of the treatment modalities used at The Arch Chiropractic Health & Performance Centre, the delivery of acupuncture is a highly customized therapy. Our individualized treatment identifies your problem areas and works to allow natural healing to begin within your body.
NEW PATIENTS

Acupuncture, is an ancient medical art which originated in China. It is based on Qi, the vital energy that flows through channels in our bodies. Traditional acupuncture treatment believes it can restore the flows if they become blocked. At The Arch Chiropractic Health & Performance Centre, we practice Medical Acupuncture, an adaptation of Chinese acupuncture.
Evidence-based, practitioners use current knowledge of anatomy, physiology and pathology to guide the healing process. Treatment is not administered until a full assessment has been made and a diagnosis determined. If it is decided that medical acupuncture can be helpful in addressing your issues, it will be included in your customized care plan.
Acupuncture stimulates the body to promote natural healing and improve function. The process involves placing very thin needles at precise acupuncture points. These points are located along the body's meridians, also known as the energy channels.
When your body experiences stress or other trauma, blockages can form in the meridians. The obstructions then block the flow of nutrients to our organs, creating imbalances and pain. Medical acupuncture stimulates the neural system to release chemicals in your muscles, spinal cord and brain in response.
These chemicals can recharge your body's natural self-regulating system. Once activated, your body will use those healing properties to reduce your pain levels and promote better wellness.
Medical acupuncture is a system that has the ability to influence three main areas of healthcare – promotion of health and wellbeing, prevention of illness and treatment of various medical conditions.
These conditions have shown good results with treatment:

Strains and sprains
Chronic pain
Swelling and inflammation
Digestive issues
Respiratory disorders
Headaches and Migraines
Sciatica
Back pain
Neck pain
Osteoarthritis
Tendinitis
Tension, anxiety and stress
Post-operative pain and nausea

As part of a focused care plan, medical acupuncture will improve energy levels and your body's biochemical balance.
Most patients feel minimal pain when the needles are inserted; some feel no pain at all. In our practice, we use Electroacupuncture which introduces a mild electrical current through two needles. This technique helps increase the potential healing effects of your acupuncture treatment.
Treatments may be combined with other therapies for best results. The number of treatments and the duration varies greatly between patients. Depending on the condition addressed, and the severity, 1-2 times per week may be recommended for several months. If the problem is acute, fewer treatments may be necessary.
Safe and effective, receiving medical acupuncture at The Arch Chiropractic Health & Performance Centre will help get you back on the road to good health even faster.
Ready to Get Started?
Medical acupuncture is one of several therapies used in our practice to help you achieve your wellness goals. Contact us today at (905) 598-1223 to make an appointment and find out if it's the right choice for you.

Medical Acupuncture in Bolton, Caledon ON | (905) 598-1223