Shockwave Therapy at The Arch Chiropractic Health & Performance Centre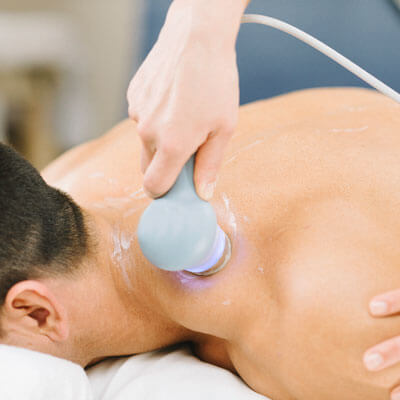 Shockwave therapy is a chronic pain solution used to treat lingering injuries. It triggers an increase in metabolism and blood circulation in the affected area. Once activated, your body's self-healing mechanisms can take control and speed recovery.
At The Arch Chiropractic Health & Performance Centre, Shockwave therapy is an important treatment option. We usually see good results in our office in 4-6 sessions. These include faster healing, pain relief, regeneration of the tissue, restored mobility and others.
NEW PATIENTS

In use for over 30 years, Shockwave therapy is a non-invasive treatment using low energy acoustic wave pulsations. The Shockwave machine is placed directly on the injury using a gel medium for better transmission.
These generated waves have proven effective treating issues involving ligaments and tendons. Treatment is indicated for conditions that have not shown improvement with other therapies. These conditions include:

Tennis elbow
Achilles tendon
Rotator cuff
Plantar fasciitis
Jumpers knee
Calcific tendinopathy
Heel spurs

Whether as a result of a sports injury, overuse or a repetitive strain, shockwave therapy can help heal and reduce your pain.
When you visit our office, as part of our examination, we will assess whether your problem can benefit from shockwave therapy. The procedure is effective for a number of musculoskeletal conditions, primarily those involving connective tissue.
If treatment is indicated, therapy be scheduled 1-2 times per week. You may experience mild discomfort for a few minutes during the process. Most patients tolerate it well, however, the intensity can be reduced to make treatment more comfortable. Safe and effective, side effects, if any, are minimal and disappear quickly.
How does Shockwave Therapy Work?
Ultrasound can be used to pinpoint the treatment area. Otherwise, pain points are focused on to locate the appropriate area. Conductive gel is applied to the skin to promote deeper penetration of the impulses. A series of focused acoustical wave pulsations are delivered directly to the targeted spot.
By elevating your body's metabolic rate and increasing blood flow to the affected area, faster healing is promoted and pain levels decrease. Functionality improves and regular activities can once more be enjoyed.
Does Shockwave Therapy Hurt?

Minor discomfort or pain may occur during or after treatment. These are temporary and over the counter pain relievers may be used as necessary. Anti-inflammatory medications and ice packs should be avoided as they can interfere with the effectiveness of the treatment.
How Quickly Will I See Results?
Since the damage occurred over a period of time, the healing process also requires time. Some patients experience reduced pain levels after one treatment; most see good results in 4-6 sessions.
Another benefit of shockwave therapy is the prevention of further injury or a worsening of your condition while healing. Depending on the severity of your injury, complete healing may take several months. Continuing your shockwave therapy during recovery reduces the chance of further damage.
Learn More Today
Shockwave therapy is an alternative therapy that may prevent the need for surgical intervention in many conditions. For over 30 years, patients have enjoyed results that conventional medicine couldn't provide. Decreased inflammation and pain; increased function and a healthier you are attainable.
Find out if shockwave therapy can help you. Contact us today, we're waiting to hear from you! (905) 598-1223

Shockwave Therapy in Bolton, Caledon ON | (905) 598-1223